That's a great tip about putting the alpha materials at the bottom of the list. Nice work Silver!
I modded the COL for the stadium so you can go in and drive on the field and seating area. Not sure if yall are interested in making it official. We could even re-export the stadium DFF to make the front gate disappear.
link to stadiumcolmod_gtalc.zip
This is what is looks like now.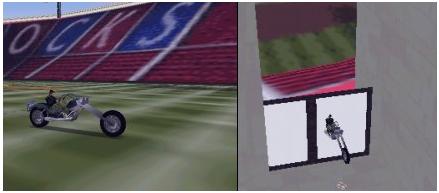 Also, my last post in
this thread
pertains to COL's, so I figured I better post it here as well:
QUOTE
Just found a COL problem that's new to me.

Illco and McOdd are the gas station and fast food buildings in Odie/Illspirit's Intercity Highway. They have always had a capitalization mismatch:

Illco and Mcodd in the COL
illcol and mcodd everywhere else

This never caused a problem in GTA3 and it didn't cause a problem in earlier versions of GTA:LC. With LC 3.1 those buildings don't have any collision (you can't even drive up to them). I've confirmed that the problem is solved by using Steve's tool to rename the cols to illco and mcodd. Has anyone else seen this issue?