[REMOVED]
Official Site and Forums : [REMOVED]
Dynamic Streets Roleplay has been founded by Yvane Kingpin , At the beginning it was not so populated , But in time we started to get more and more players until we reached the point of 50+ 60+ Players a day .
We have a bunch of awesome Roleplayayers , A friend and peaceful community that you will love to be a part of , Experienced and helpful admins that are always there to support you no matter what , We got an heavy Roleplay policy so if you're looking for a nice time with friendly people DSRP is the place for you!.
Our policy on Rule-Breaking is severe and strict , Please read the rules before joining and make sure you know them and won't break them , I will state some of the rules below
DM/DeathMatching - Attacking a player in any way without a proper roleplay in character reason.
RK/Revenge Kill - Attacking a player in any way when you were recently killed by that player. When you die you lose 30 minutes of your memory, including when you get killed.
KOS/Kill on Sight - Attacking a player in any way without any or little roleplay involved. Even if you have a roleplay reason to attack the player, if you do not roleplay you can be punished for this.
Non-RP Car Ramming - Non-RP Car Ramming is using your vehicle to attack a player. Admin discretion is used to decide whether or not it was roleplayed.
Scamming Over the Limit- Scamming any player for an amount of more than $50,000 (not including 50,000.) This includes but is not limited to materials and other products. Standard street price will be used to decide in this event if the scam was over the limit.
Scamming OOC Items- Scamming any out of character item
OOC Hit - Placing a contract on another player with an out of character reason, without knowing their name, or with little to no roleplay reason.
Gun Discharge Exploits (QS/CS)- Using any gun discharge exploit including but not limited to crack shooting and quick swapping. This excludes passworded paintball rooms in which the roomer allows it.
Metagaming - Using out of character information in character, or sharing in character information out of character with the intention of it being used to metagame.
Powergaming - This is a wide concept term and it's literal definition is varied. The concept of this term that you perform an action which your character is incapable of. Examples of this are god-like abilities. It is commonly referred to when a player powergames with the /me command. Use of the command to perform an action your character would otherwise be incapable of is considered powergaming. For example; /me takes all your money or /me takes all your guns, are examples of powergaming.
Server Information

The Main Administrators
Yvane Kingpin(Yvane) [Main Owner]
Jefferson Kingpin(Jeff) [Community Owner]
Omar [Faction manager]
Dean Nelson(Dean) [Community Manager]
Kervz [Junior Admin]
Infinity N Red [Community Manager]
James Emperor [Community Owner]
Factions and Families
Ever wanted to be a Cop or a Gang member? Then DS-RP is the place where your wishes comes true!
Be a criminal , a robber , a gang member or even a mafia member , Whatever you want you can experience with us in our wonderful Community
I will state below a little list of the main Families/Factions in DS-RP
Los Santos Police Department
- The main LEO Faction in the server , They are cops that roam and protect the streets of Los Santos , So if you're in trouble? Just call 911!
Los Santos Medic and Firefighter Department
This Faction that are in charge of victims - They are Medics and Firefighters that saves lives , Don't hesitate to call the Paramedics if you feel bad!
Federal Bureau of Intelligence [FBI]
The Top Secret LEO Organization that are in charge of special missions and secret files - They protect the state and guard the Governor at all costs
San Andreas News
The NEWS Faction that always supply the City of Los Santos with information and the latest news around

The Government
The Government is the faction that controls Los Santos and the whole San Andreas , They control the factions and are always working in order to protect the Nation
The Hitman Agency
They are a small group of handpicked Killers that assassinates and kills for money , So if you even hate someone , Just hire one of them to have their life ended.
Nation Office Of Security Enforcement (NOOSE)
They are the Special LEO Faction that are in charge with Nation Threats like Attacks , Bank Robberies and such
Tierra Robada
A independent Nation and fights with the San Andreas and the Security Departments for their own freedom
Gang&Families
Gang/Families has now 20 Family slots with alot inside in, they can get gates,HQ,gangcars,gangmembers and capturing point (obviously much more then that). Gang&families have permission to invite anyone who wants to join or who can[Test Involved] - So if you ever wished to be a gang member , go and find them and join them!
[REMOVED]
[REMOVED]
Some screenshots of the Community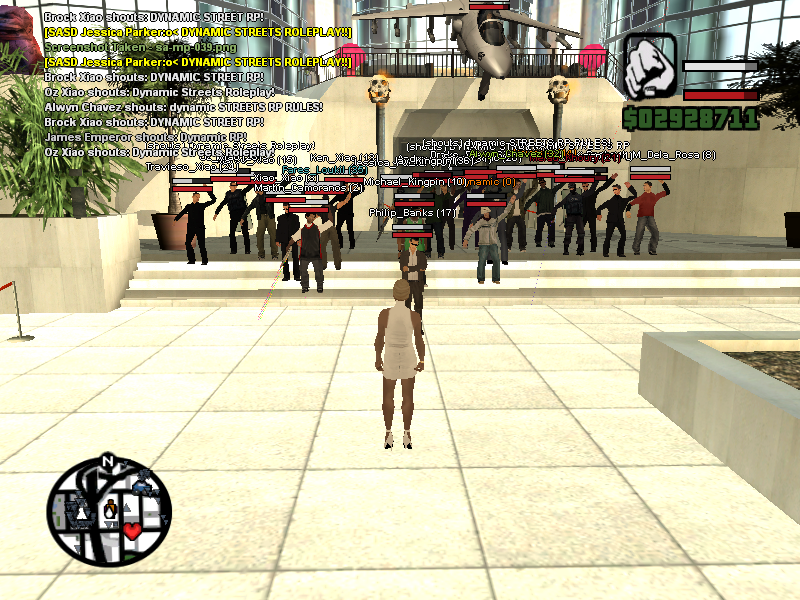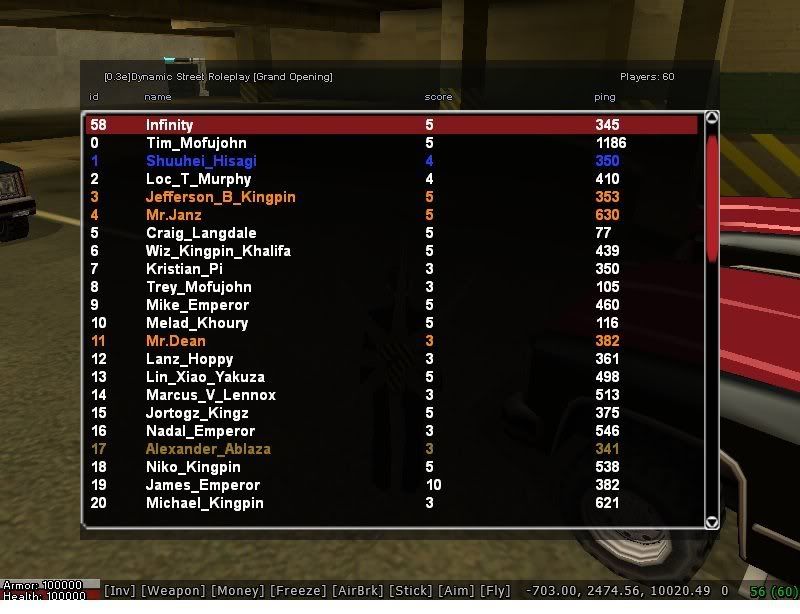 Join us today , Be a part of our amazing community and have fun roleplaying , getting to know and earning respect from the other playes , I wish you all good luck and we are waiting for you on Dynamic Streets Roleplay with out arms wide open , You are all welcome . Beginner Roleplayers are all welcome because we can teach your how to roleplay and make you have an amazing time with us here
This post has been edited by docrikowski on Sunday, Jul 22 2012, 21:09